Meet Us at North Star
Dubai 2022.. GITEX
We are delighted to announce that PraxiLabs is participating at NORTH STAR 2022, the world's largest, most inclusive tech and startup show, and we would love to see you there!

Come and experience advanced innovations disrupting diverse sectors, and learn from the world's most formidable minds in tech and business. GITEX GLOBAL features mind-expanding talks across 14 conference verticals, alongside hands-on workshops and certified trainings, from 10 – 14 Oct 2022 at Dubai World Trade Centre.

We have arranged for an exclusive offer for our valuable business associates.

Hurry up & use PraxiLabs' special offer for you! Use Promo Code: EXH5GTX0 and get a 50% discount on your choice of conference pass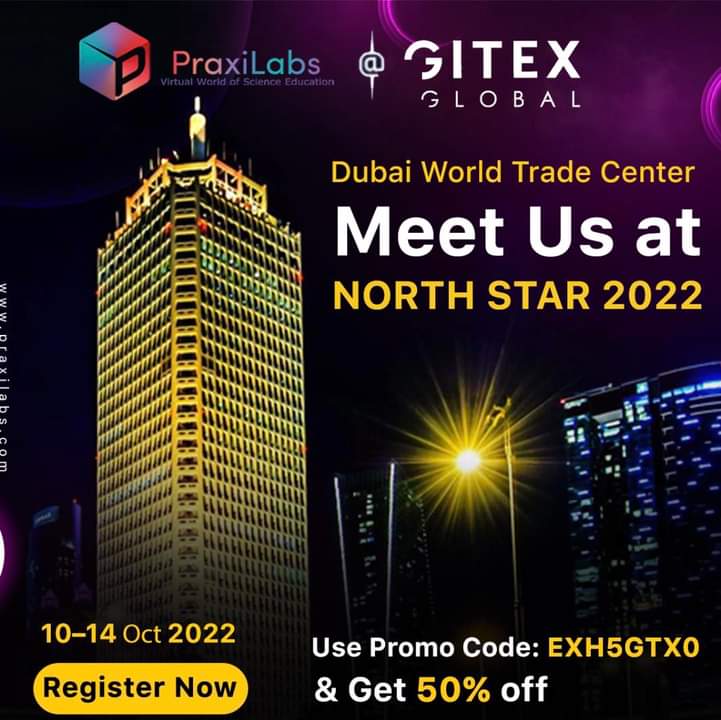 We're in a
Science Direct New Research!
PraxiLabs is honored to be mentioned as the software used in the experimental research, recently published on Science Direct, one of the subsidiaries of Elsevier, the world's largest scientific publisher!

The study mentions that the experiments were performed using PraxiLabs virtual labs in 2020.
Here are some of the research's findings and recommendations:

Virtual labs yielded a more positive effect on students learning outcomes.
They're gender-friendly and improve students' laboratory skills, achievement, and creative abilities.
Educational designers can use virtual labs to produce courses that provide better learning opportunities and reduce the cognitive load of learning
Virtual labs can give time for learners to manage their learning in the performance of advanced tasks
Virtual labs cannot replace traditional laboratories but can respond to the existing challenges and optimize the learning process.
Virtual labs implementation in medical education and science literacy is vital.
Teachers should be exposed to virtual labs strategy to promote active and discovery learning, motivation, and learning by doing.
Students can benefit from virtual labs when learning about the real world, as they acquire conceptual knowledge and develop science process skills.
Read the Full Research
now.
PraxiLabs Is in the
Top 5 EdTech Startups
We are so proud that StartUs Insights recognized PraxiLabs, in its recently published data-driven analysis, as one of the top 5 #startups handpicked out of 126 in the field of EdTech.

This comes as a result of the changes that PraxiLabs is making in the Middle East region & around the globe, besides the role it plays in developing the way science is taught and practiced through the virtual labs it produces.
StartUs Insights is the leading startup and innovation network connecting the European startup community.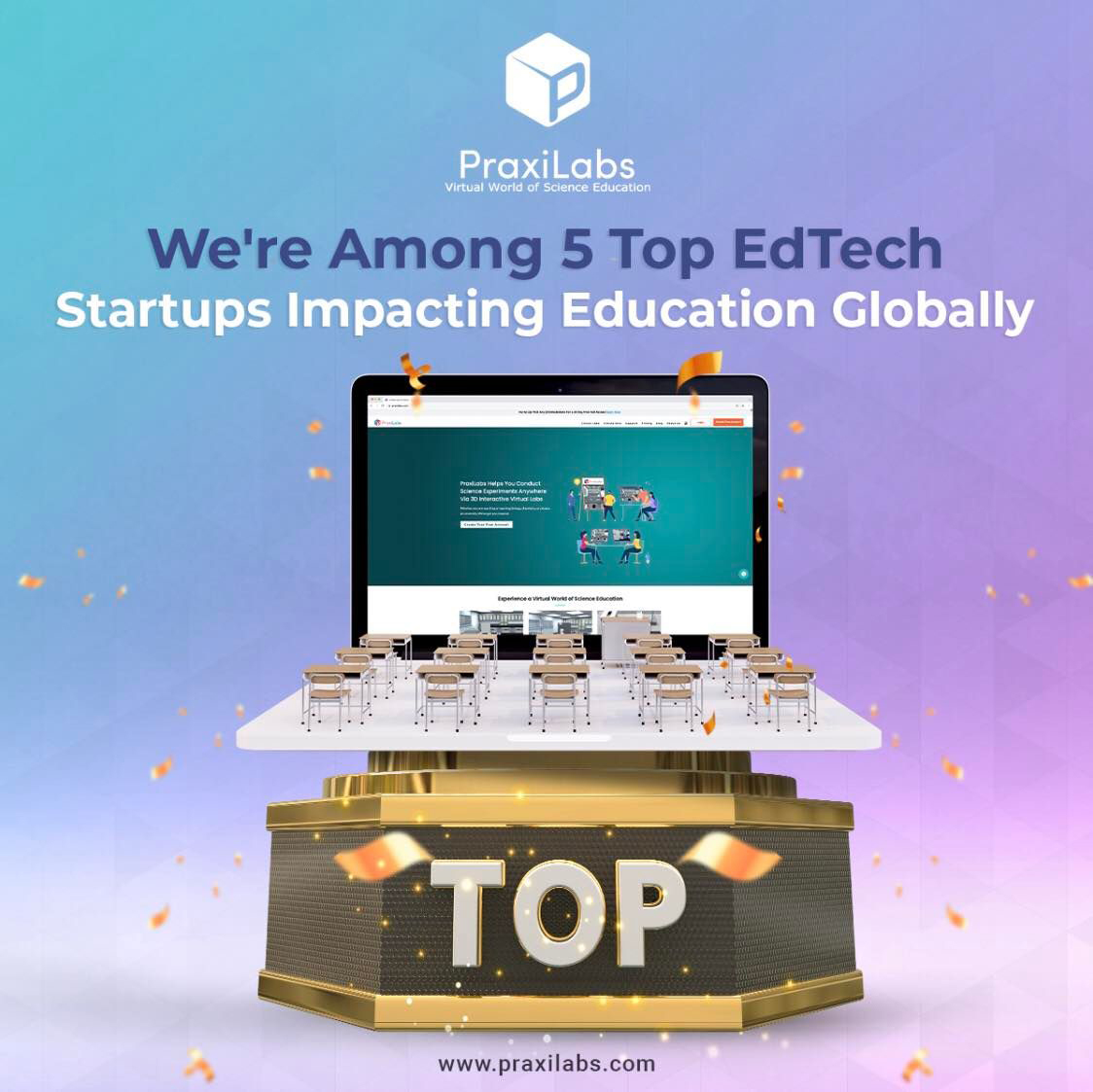 PraxiLabs April Updates:
20+ New Lab Simulations & Enhancements
PraxiLabs just added dozens of brand new 3D virtual labs simulations to PraxiLabs catalog. Professors now have more lab simulation options to pick from in order to enhance students' learning outcomes and engagement.

We are pleased to announce the launch of 25 new experiments (fields of biology, chemistry, and physics) by PraxiLabs virtual science labs, in order to provide advanced educational opportunities for all students of science colleges around the world.

The new features create a better experience for science teaching and learning. It all started from the need to make virtual science labs accessible, user-friendly, and affordable for educational institutions and schools and we're on a roll!

PraxiLabs virtual simulations are now more interactive, personalized, empowering, and supporting like never before:

MCQ model answers
Walkthrough videos
Instant support
Game-like hints window
You can get to know them all, choose what suits you, and start practicing them from
PraxiLabs new features
.
PraxiLabs is built for every institution and professor to improve students' learning outcomes and grades. But what's more is that it empowers educational institutions to help science students learn, explore, and interact better.
PraxiLabs wins Next Billion EdTech
Prize 2019
Praxilabs wins the 2019 Next Billion EdTech Prize during the Global Education and Skills Forum that was held in Dubai, UAE from the 22-24 of March 2019. Thirty EdTech startups were selected out of 800 to compete, and only 3 have won the prize. We are proud to be the only winning startup from the MENA region.

The prize was given to edtech startups that focused on transforming education and targeting teaching and learning in developing countries, and these are exactly what our objectives are with PraxiLabs. Therefore, as an EdTech solution that has been developed to overcome educational challenges, this prize is considered an amazing opportunity for PraxiLabs to achieve its purpose. Winning this award reassures us that we are on the right track and that educational technology can make a difference.

A lot of time and effort has been invested in PraxiLabs to become the solution that it is today, and we believe that it is going to play a global role in the development and growth of education. We are proud to have participated in such a significant event and honoured to be chosen as one of the winners.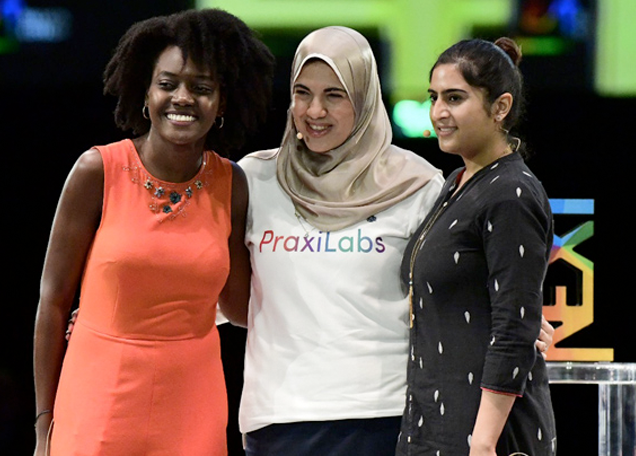 PraxiLabs joins

Katapult Global Acceleration Program

in Norway!

We are pleased to announce that PraxiLabs has been chosen, alongside 11 other impact-centric startups, to join Katapult Accelerator for their three-month program in Norway. We were selected amongst 1500 applications from 107 countries around the world, with a selection rate of only 0.8% – we are excited to be a part of this group of talented people!

During the upcoming weeks, we will be involved in various hands-on activities with the top-notch team and mentors of Katapult Accelerator. They will help us to expand and grow our business; thus allowing us to take Praxilabs to the next level of its journey and guiding us to meet our goal of helping science students and educational institutions around the world with our safe, engaging, and cost-efficient virtual labs.